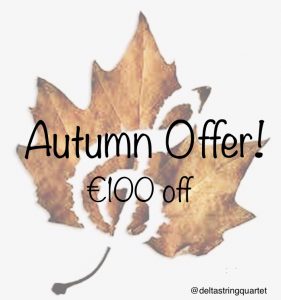 We are offering €100 off to couples who would like to book us for their wedding on ANY date between now and December 1st.* This really is a fantastic opportunity for those last-minute planners out there (I see you!) 😉
We guarantee incredible music that you will remember above almost all else on your wedding day. Why don't you listen to some of our audio samples and see what you think?
Simply contact us and we will give you the full list of all our regular rates and packages – €100 can then be taken off the top of any of those prices. MOST IMPORTANTLY, we won't be inflating our prices to account for the €100 discount, there are no catches or tricks with us!
If you would like to find out more, or are interested in availing of this offer, please don't hesitate to contact us.
Hopefully this offer will bring some relief and hope to couples in what is already a stressful time! A Happy Happy Autumn to everyone and we can't wait to hear from you! 🍁🐾🍂
*any date that we don't already have a booking